About Exotic Genetix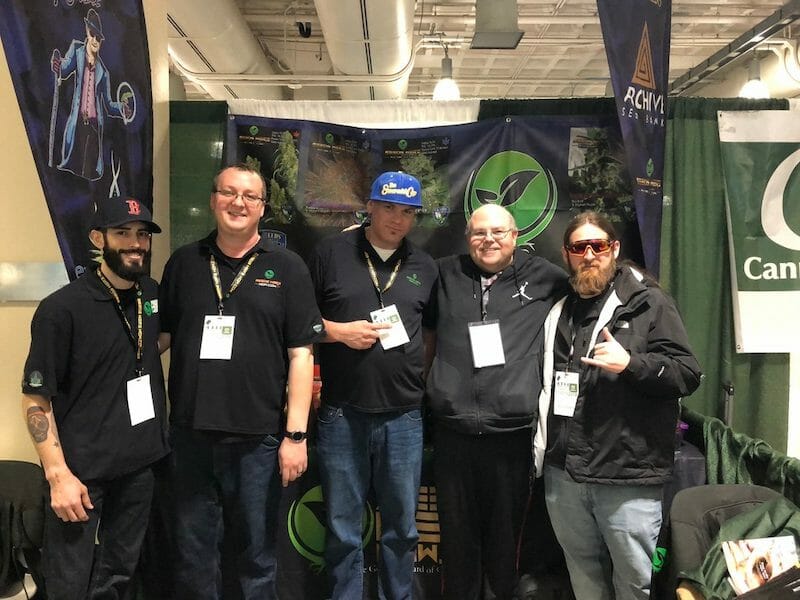 Exotic Genetix, since 2008, has embarked on a pioneering journey in the realm of cannabis genetics under the expert guidance of its founder, Exotic Mike.
Exotic Genetix is an assembly of passionate cannabis enthusiasts with an innovative spirit. Exotic Mike, known for his dedication to breeding unique cannabis strains, leads the company with Christina, the backbone of Exotic's office operations. This dynamic duo, along with the rest of the team, has shaped ExoticGenetix into a powerhouse of cannabis seed production.
Exotic Genetix's catalog is a treasure trove of diverse and unique cannabis strains. They offer a rich assortment of Indica, Sativa, and hybrid strains, carefully crafted to cater to a wide array of tastes. Each cultivar is meticulously bred to ensure it carries the ExoticGenetix stamp of quality and uniqueness.
Exotic Genetix is a renowned cannabis seed company based in Tacoma, Washington.
The company is revered for its innovative approach to cannabis breeding. By continuously experimenting with different combinations of cannabis genetics, Exotic Genetix has created some truly unique and high-quality strains. This spirit of innovation is apparent in every hybrid they produce, from the sweet and fruity flavors of Rainbow Chip to the potent, earthy notes of their Triple OG.
Exotic Genetix's dedication to quality and innovation has not gone unnoticed in the industry. They have received numerous accolades over the years, including a phenomenal 11 wins at the 2017 High Times Cannabis Cup. Their Cookies & Cream strain, a unique blend of Starfighter and Mystery Cookies, bagged the award for Best US Hybrid at the 2014 US Cannabis Cup, underscoring their expertise in breeding standout hybrid strains.
The partnership between Exotic Genetix and SeedsHereNow has spanned six fruitful years. This collaboration has allowed SeedsHereNow to offer a wider selection of Exotic Genetix's unique cannabis strains, delivering these high-quality genetics to a broader audience of cannabis enthusiasts.
As Exotic Genetix continues to push the boundaries of cannabis breeding, its dedication to quality, innovation, and customer satisfaction remains unchanged. This steadfast commitment, coupled with its impressive catalog of unique cannabis strains, makes Exotic Genetix a shining beacon in the cannabis seed industry.
Trailblazers in the cannabis seed industry
Exotic Genetix unquestionably stands out among the rest. Established in the green heart of Tacoma, Washington, in 2008, ExoticGenetix is the visionary brainchild of the committed and passionate cannabis breeder, Exotic Mike.
Exotic Mike, a cannabis enthusiast with a keen eye for quality and innovation, has dedicated his career to pushing the boundaries of cannabis genetics. His hands-on approach and deep understanding of the plant have allowed Exotic Genetix to become a synonym for unique, top-tier cannabis strains.
Under Mike's expert guidance, ExoticGenetix Seeds has created some of the most diverse and exceptional cannabis seed collections in the industry. From tantalizingly sweet and fruity strains to those with potent, earth-shattering effects, Exotic Genetix Seeds offers a splendid repertoire of experiences for every cannabis connoisseur.
Behind the scenes, ensuring the smooth operation of ExoticGenetix is the indispensable, Christina. A crucial pillar of the Exotic Genetix team, Christina's work in the office helps keep everything running smoothly, allowing Exotic Mike to focus on his genius in breeding unique cannabis strains. Her dedication and proficiency are pivotal in Exotic Genetix's success, demonstrating that cultivating exceptional cannabis is a team effort.
In the six years my company, SeedsHereNow, has enjoyed working with Exotic Genetix, it's been an exciting journey of growth, discovery, and mutual respect. Our partnership has seen us bring many of Exotic Genetix's high-quality cannabis seeds to a broader market, allowing more enthusiasts to experience these extraordinary strains.
What stands out about our collaboration is the shared dedication to excellence and customer satisfaction. Exotic Genetix's commitment to innovation and quality, coupled with SeedsHereNow's dedication to providing the best cannabis seeds, has created a symbiotic relationship that benefits our customers.
Over the years, ExoticGenetix has demonstrated time and again why it is regarded as one of the top seed companies in the world. Their catalog of award-winning strains speaks for itself, boasting awards such as the 2014 US Cannabis Cup (Best US Hybrid) for their exceptional Cookies & Cream strain and a staggering 11 wins in the 2017 High Times Cannabis Cup.
ExoticGenetix Seeds is more than just a seed company – it's a brand that stands for innovation, quality, and a genuine love for cannabis. With Exotic Mike at the helm and Christina and the rest of the team's unwavering support, Exotic Genetix continues redefining the boundaries of what's possible in cannabis breeding. We at Seeds Here Now look forward to continuing our fruitful partnership, sharing the magic of Exotic Genetix's seeds with the world.
Exotic Genetix is known for its relentless pursuit of cannabis perfection. In the world of cannabis breeding, they are recognized as innovative trailblazers, consistently pushing the boundaries of what is possible in cannabis genetics.
From the moment Exotic Mike decided to turn his passion for cannabis into a profession, ExoticGenetix has been on an unwavering mission to craft unique, high-quality strains. Their creations are a testament to the expert craftsmanship and deep understanding of cannabis genetics that Exotic Mike brings to the table.
At the heart of their reputation is an impressive collection of award-winning cannabis strains. Exotic Genetix's strains have consistently been recognized in cannabis competitions, attesting to their superior quality and distinctiveness. A striking example of their accolades is the 2014 US Cannabis Cup, where they clinched the Best US Hybrid category with their unique Cookies & Cream strain. Then, in 2017, they dominated the High Times Cannabis Cup, walking away with an unprecedented 11 wins.
Yet, what truly sets ExoticGenetix apart and has cemented its reputation in the cannabis world is its dedication to diversity and innovation. Exotic Mike and his team go beyond the ordinary, infusing their work with a creative spark that results in a breathtaking array of strains. From sweet, fruity flavors to earthy, pungent aromas, their portfolio caters to a wide range of tastes and preferences.
The Grease Monkey strain, for example, showcases Exotic Genetix's knack for creating balanced, complex strains. A cross between the sharp, fuel-flavored Gorilla Glue #4 and their sweet, creamy Cookies & Cream, Grease Monkey offers a unique interplay of flavors. This strain's potent, well-rounded high further underscores Exotic Genetix's ability to deliver an exceptional cannabis experience.
Their Starfighter strain, on the other hand, is a testament to their ability to achieve high potency. This Indica dominant hybrid is renowned for its powerful effects, delivering a deeply calming and euphoric experience that exemplifies the potential of high-quality cannabis breeding.
Exotic Genetix is also known for its commitment to its customers. Throughout its partnership with SeedsHereNow, Exotic Genetix has shown a dedication to ensuring every customer can access their high-quality, innovative strains. This ethos aligns perfectly with SeedsHereNow's commitment to customer satisfaction, resulting in a fruitful collaboration that brings the best of cannabis genetics to enthusiasts worldwide.
Exotic Genetix's reputation in the cannabis industry is well-deserved. Known for its innovative, high-quality strains, impressive collection of awards, and commitment to its customers, this seed company has significantly impacted the world of cannabis breeding. Under the expert guidance of Exotic Mike, with the vital support of Christina and the rest of the team, Exotic Genetix continues to explore the endless possibilities of cannabis genetics, crafting unique strains that captivate and satisfy cannabis enthusiasts worldwide.
Exotic Genetix's contribution to the cannabis industry has not gone unnoticed. The company has consistently been recognized for its exceptional work in cannabis genetics, as evidenced by its impressive list of awards and accolades.
Their first notable triumph was at the 2014 US Cannabis Cup. Exotic Genetix took the cannabis world by storm when their Cookies & Cream strain clinched the award for the Best US Hybrid. This unique strain, a cross between Starfighter and an undisclosed Girl Scout Cookies phenotype, showcased the company's knack for creating balanced, flavorful hybrids.
Three years later, in 2017, Exotic Genetix achieved an unprecedented feat at the High Times Cannabis Cup. The company dominated the competition, walking away with a staggering 11 wins. This impressive accomplishment further solidified their status as a top-tier cannabis seed company and demonstrated their consistency in producing high-quality, innovative strains.
One of their notable award-winning strains is the Kimbo Kush. This powerful, heavy-hitting strain is a cross between Blackberry Kush and Starfighter. Kimbo Kush, named after the late Kimbo Slice, has a rich aroma of sweet berries mixed with earthy and piney undertones. The strain's potency and unique flavor profile earned it first place in the 2015 High Times Medical Cannabis Cup for Best Indica Concentrate.
The Rainbow Chip strain, another jewel from Exotic Genetix, also boasts its fair share of accolades. This strain combines the flavorful profiles of Sunset Sherbet and Mint Chocolate Chip. The resulting cannabis strain is known for its dessert-like aroma, intense euphoria, and relaxation effects, which helped it secure its place as a winner in multiple categories in recent cannabis cups.
These are just a few of the numerous awards that Exotic Genetix has earned over the years. Their extensive list of accolades is a testament to their commitment to innovation, quality, and excellence in cannabis breeding. The continued recognition by the industry and the community further underscores Exotic Genetix's position as a pioneering force in the world of cannabis genetics.
Exotic Genetix has won multiple awards for their great cannabis strains every year since 2012:
-1st place Indica with Tina
-2nd place Hybrid with Cream N' Tina
-3rd place Sativa for Paradise Circus
Exotic was named one of the best seed breeders in a 2017 issue of High Times!
2014 US Cannabis Cup (Denver) Winner Cookies & Cream
2015 HTCC So Cal event: Best Hash
Award-winner Kimbo Kush
11 First-place Cannabis Cup Wins
7 Second-place Awards
4 third-place wins
The amazing Starfighter F2 stud
Strain archive
This is a place to showcase the breeder's past breeding work. If it is marked retired, it will not come back. However, if it's marked "out of stock," Sign up for the "out of stock" list, on the product page, and be the first to know when it comes back in.

Are you 21 or older?
You must be 21+ to purchase Seeds products.
Due to legal requirements you must verify your age.