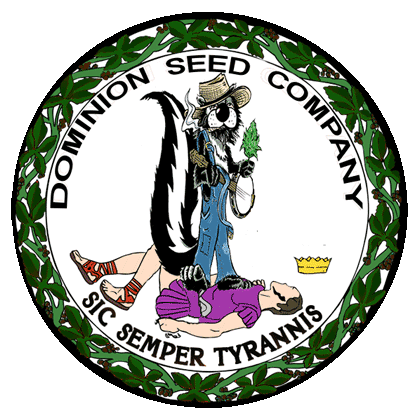 About Dominion Seed Company
Dominion Seed Company, led by the esteemed Duke Diamond, is a premier provider of high-quality cannabis seeds. With a steadfast commitment to preserving and enhancing cannabis genetics, the company has carved a niche for itself in the cannabis industry. Each strain offered by Dominion Seed Company is meticulously developed and rigorously tested to ensure optimal potency, flavor, and growth characteristics. The company's portfolio includes unique and celebrated strains such as North End Punch and Local Skunk F3, which are favored by both cultivators and consumers for their distinctive profiles. Beyond offering superior seeds, Dominion Seed Company is also dedicated to educating the cannabis community. Through various events and the provision of essential cultivation resources, the company shares valuable insights and fosters a knowledgeable and responsible community of growers. At Dominion Seed Company, the mission is clear: to provide the highest quality seeds and gear to the cannabis community, while promoting responsible and informed cultivation practices. The company's dedication to its craft and its commitment to the community make it a trusted and respected name in the industry.
Duke Diamond is the mastermind behind Dominion Seed Company, a renowned name in the cannabis seed industry. Known for his dedication to preserving and improving cannabis genetics, Duke has made significant contributions to the field. His work is characterized by a commitment to quality, with each strain meticulously developed to ensure optimal potency and flavor.
Duke's creations, such as the North End Punch and Local Skunk F3, are a testament to his expertise and passion for cannabis cultivation. His strains are celebrated for their unique profiles and exceptional growth characteristics, making them a favorite among cultivators and consumers alike.
Beyond his work with Dominion Seed Company, Duke is also recognized for educating others about cannabis cultivation. He shares his knowledge and experience through events and grow essentials, fostering a community of informed and responsible growers.
Despite his success, Duke remains grounded, focusing on his mission to provide high-quality seeds and gear to the cannabis community. His dedication to his craft and his commitment to the community make him a respected figure in the industry.
Duke Diamond is NOT JUST another breeder from Virginia. Dukes got deep roots in the cannabis world. He was active on the online cannabis forums early on.
After a court-imposed hiatus from the community, he returned, memorably calling into the Adam dunn show and helping Mr. Soul to reboot Brothers Grimm before eventually founding his own seed co Dominion Seed Co.
Duke is known for his work with many old heirloom classics like the old skunk and Afghan lines maintained by those in and around Va.
Duke dropped the SSSC Skunk1 crosses at the 2017 emerald cup, and he was the talk of the cup. The Skunky phenos that had been selected and brought with him created a real buzz throughout the weekend. I remember hanging out in the coastal booth, and everyone who came through talked about Duke's skunks.
Duke has also worked with old-school classic Afghans like the Va Beach Afghan, the g13, the 88g13hp, and the Skellly HP. These lines preserve the intensely potent afghans that were the cornerstone of the cannabis market in the late 80s and 90s.
Duke has always been very open and sharing regarding genetics and knowledge. He also takes the time to encourage and uplift people in the community.
— @sungrownmidz
Prolific sharer of cannabis knowledge
Local Skunk – Screaming Eagle – Dominion Skunk – HP – Skelly HP
Old-school 80s / 90s genetics
Interviews
Strain archive
This is a place to showcase the breeder's past breeding work. If it is marked retired, it will not come back. However, if it's marked "out of stock," Sign up for the "out of stock" list, on the product page, and be the first to know when it comes back in.

Are you 21 or older?
You must be 21+ to purchase Seeds products.
Due to legal requirements you must verify your age.