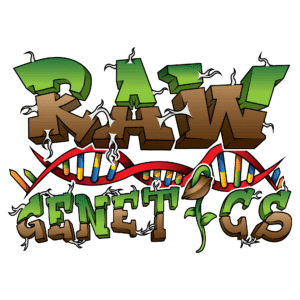 About Raw Genetics
Raw Genetics is a premier seed bank that stands at the forefront of the cannabis industry, consistently pushing the boundaries of cannabis genetics. With a deep-rooted passion for the plant, the team at Raw Genetics has dedicated their lives to understanding the complexities of cannabis and using that knowledge to create unique, high-quality strains.
Raw Genetics is not just a seed bank; it's a testament to the beauty and diversity of cannabis. Every strain they create is a labor of love, meticulously crafted to ensure the highest quality. They believe in the power of cannabis to heal, inspire, and bring people together, and they strive to make that power accessible to everyone through their seeds.
At Raw Genetics, the commitment to innovation is unwavering. They are always experimenting, always learning, and always looking for ways to improve. They believe that the future of cannabis lies in the hands of those who are willing to push the boundaries and challenge the status quo. And that's exactly what they intend to do.
Raw Genetics is known for its commitment to quality and innovation. They've spent years perfecting their breeding techniques, and the results speak for themselves. Their strains are known for their potency, flavor, and consistency, earning them a reputation as one of the top breeders in the industry.
But what truly sets Raw Genetics apart is their commitment to the cannabis community. They believe in the power of cannabis to change lives, and they're dedicated to making that power accessible to everyone. That's why they work tirelessly to create strains that are not only potent and flavorful but also easy to grow and accessible to all.
At Raw Genetics, they're not just creating seeds; they're creating experiences. They want every person who grows their seeds to feel a sense of accomplishment and pride in their harvest. They want them to experience the joy of growing their own cannabis and the satisfaction of knowing they've grown the best.
Interviews
Strain archive
This is a place to showcase the breeder's past breeding work. If it is marked retired, it will not come back. However, if it's marked "out of stock," Sign up for the "out of stock" list, on the product page, and be the first to know when it comes back in.

Are you 21 or older?
You must be 21+ to purchase Seeds products.
Due to legal requirements you must verify your age.